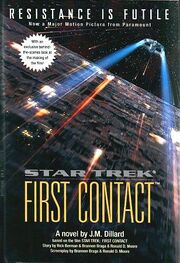 From the deepest, darkest reaches of space came the greatest threat the Federation had ever faced: the Borg. Half organic/half mechanical, the Borg were relentless and bent on conquering and "assimilating" all intelligent life; a single Borg vessel destroyed thirty-nine Federation starships, decimating Starfleet.
Stronger and more dangerous than ever, they are ready to launch a new attack against the Federation, one that threatens its past... its present... and its future.
Only the courage and determination of Captain Jean-Luc Picard and his crew can prevent the Borg from striking at the heart of the Federation and Earth.
Ad blocker interference detected!
Wikia is a free-to-use site that makes money from advertising. We have a modified experience for viewers using ad blockers

Wikia is not accessible if you've made further modifications. Remove the custom ad blocker rule(s) and the page will load as expected.