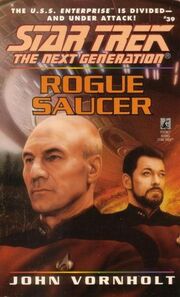 While its own saucer section receives needed repairs, the USS Enterprise-D tests a new experimental saucer. In theory, the new saucer can survive a planetary crash landing, but will it come through intact under genuine test conditions? Riker, Data, Worf, and La Forge risk their lives to find out, and so does Admiral Nechayev of Starfleet.
But a dangerous test turns even more deadly when hostile forces seize control of the saucer — and turn it against the Enterprise.
Ad blocker interference detected!
Wikia is a free-to-use site that makes money from advertising. We have a modified experience for viewers using ad blockers

Wikia is not accessible if you've made further modifications. Remove the custom ad blocker rule(s) and the page will load as expected.