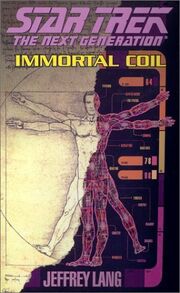 He is perhaps the ultimate Human achievement: a sentient life-form; self-aware, self-determining, possessing a mind and body far surpassing that of his makers, and imbued with the potential to evolve beyond the scope of his programming. Created by one of the most brilliant and eccentric intellects the Federation has ever known, the android Data has always believed he was unique, the one true fulfilment of a dream to create children of the mind.
But is he?
Investigating the mysterious destruction of a new android created by Starfleet, Data and the crew of the USS Enterprise uncover startling secrets stretching back to the galaxy's dim past. That knowledge is coveted by beings who will stop at nothing to control it, and will force Data to redefine himself as he learns the hidden history of artificial intelligence.
Ad blocker interference detected!
Wikia is a free-to-use site that makes money from advertising. We have a modified experience for viewers using ad blockers

Wikia is not accessible if you've made further modifications. Remove the custom ad blocker rule(s) and the page will load as expected.