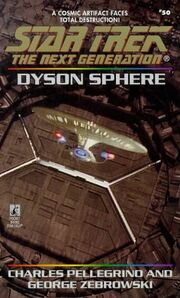 Two hundred million kilometers across, with a surface area that exceeds that of a quarter-billion worlds, the Dyson sphere is one of the most astounding discoveries the Federation has ever made. Now the USS Enterprise-D has returned to explore the awesome mysteries of the sphere. Intrigued by what is possibly the greatest archaeological treasure of all time, Captain Jean-Luc Picard hopes to discover the origin of humanoid life throughout the galaxy – or perhaps the ultimate secret of the Borg.
But when a neutron star approaches on a collision course with the sphere, a mission of discovery becomes a desperate race against time. The many sentient species inhabiting the sphere face extinction – can even the Starship Enterprise save them all?
Ad blocker interference detected!
Wikia is a free-to-use site that makes money from advertising. We have a modified experience for viewers using ad blockers

Wikia is not accessible if you've made further modifications. Remove the custom ad blocker rule(s) and the page will load as expected.